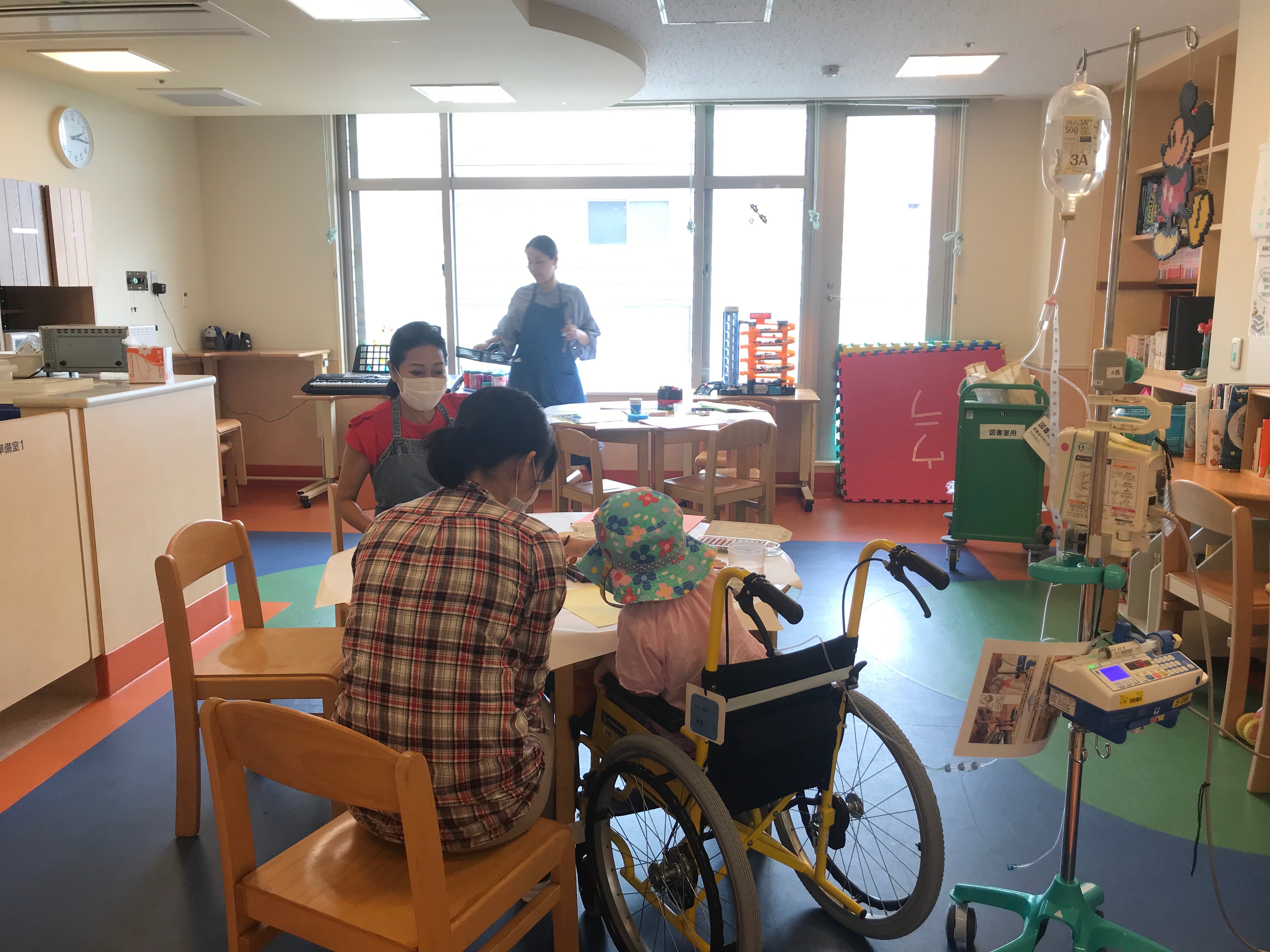 An art therapy workshop was held at the Kanagawa Children's Medical Center in Yokohama, where children with serious illnesses and disabilities live. Usually, interaction is limited to just the staff and volunteers of Kids Earth Fund, but this time one of the Kids Earth Fund interns from the United States was able to go as well and provide the children with additional care.
The intern who went to this art workshop wrote her experiences, and another student intern translated it into Japanese. I hope that they will takeaway a memorable experience from interning at Kids Earth Fund.
My Internship Experience
The first girl to arrive was a young girl in a wheelchair with a bandaged arm and connected to an IV. She was very eager to paint some flowers that matched her hat. She had a cheerful attitude and was very talkative.
Another girl wanted to participate, but she could not come to the main room where the art workshop was being held. A volunteer and I brought drawing materials to her room. As she was unable to sit up, the other volunteer held the paper up for her so she could draw while laying down. We talked about our favorite foods and favorite colors as we drew together.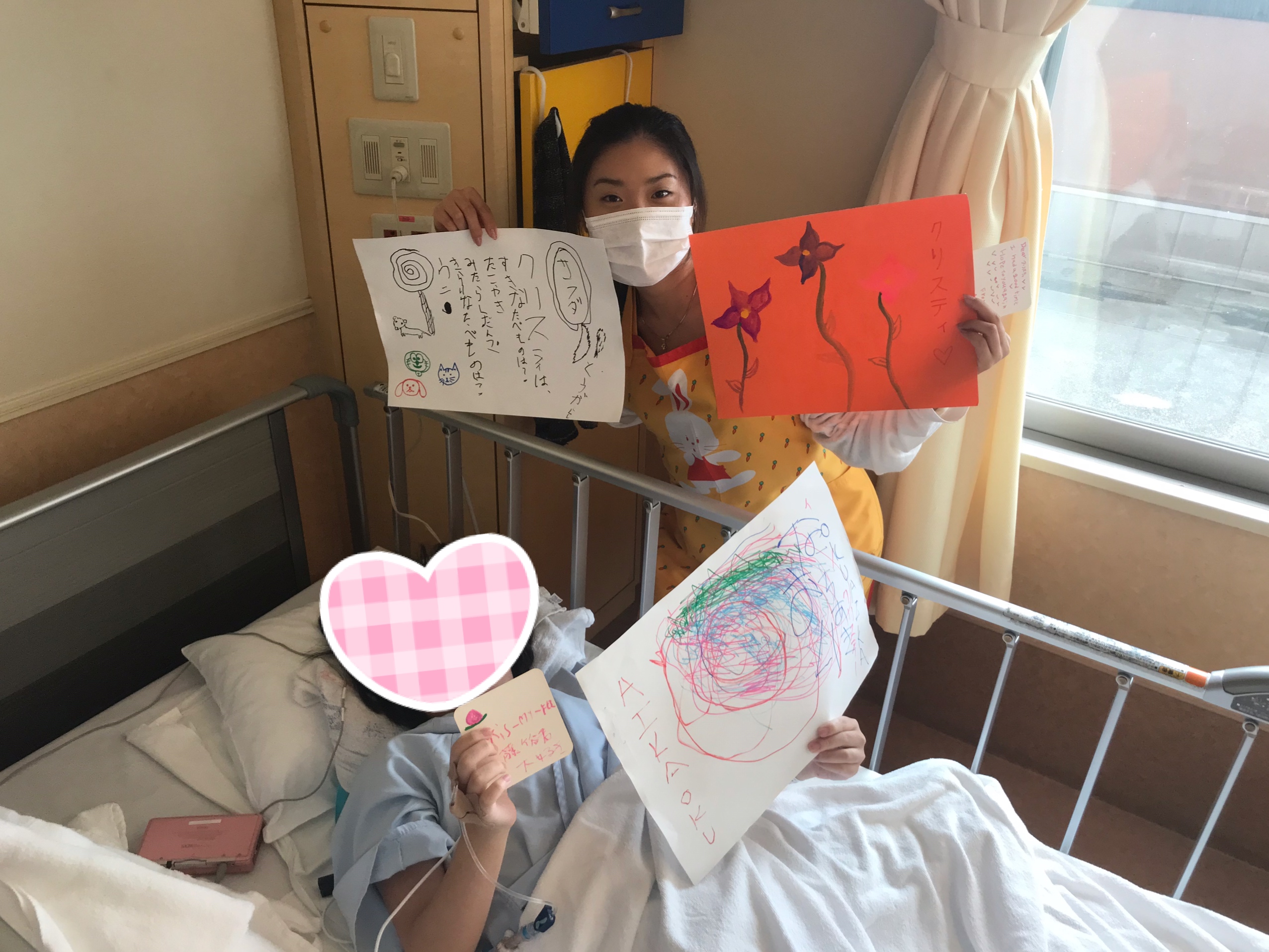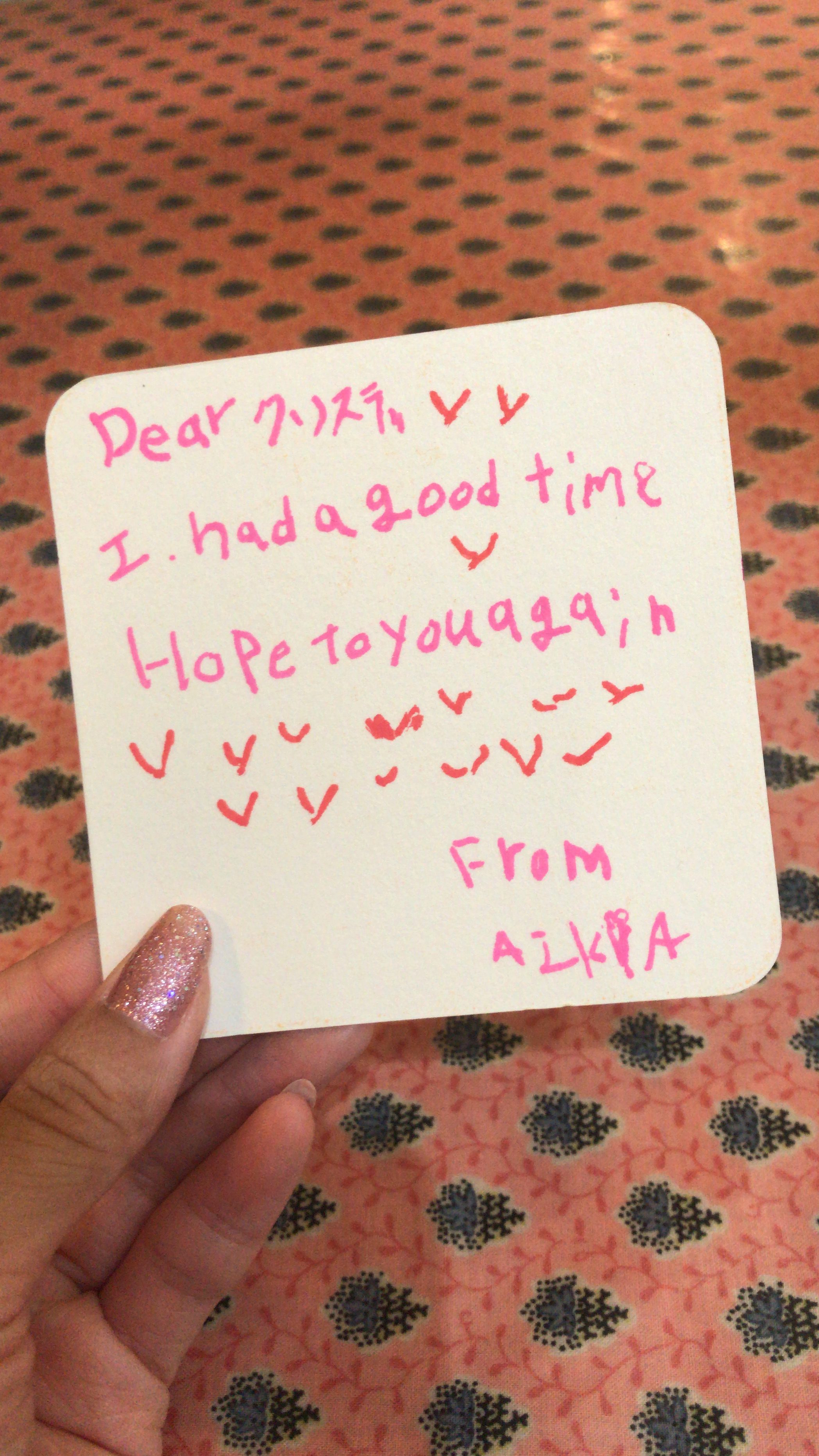 It was a girl's birthday on the day of the workshop. She was turning 13 so Harumi Torii and I painted birthday cards for her. She carried her favorite stuffed animal, a Disney Sea cat character named Gelatoni. We painted Gelatoni onto her birthday cards. She was happy to receive them and thanked us.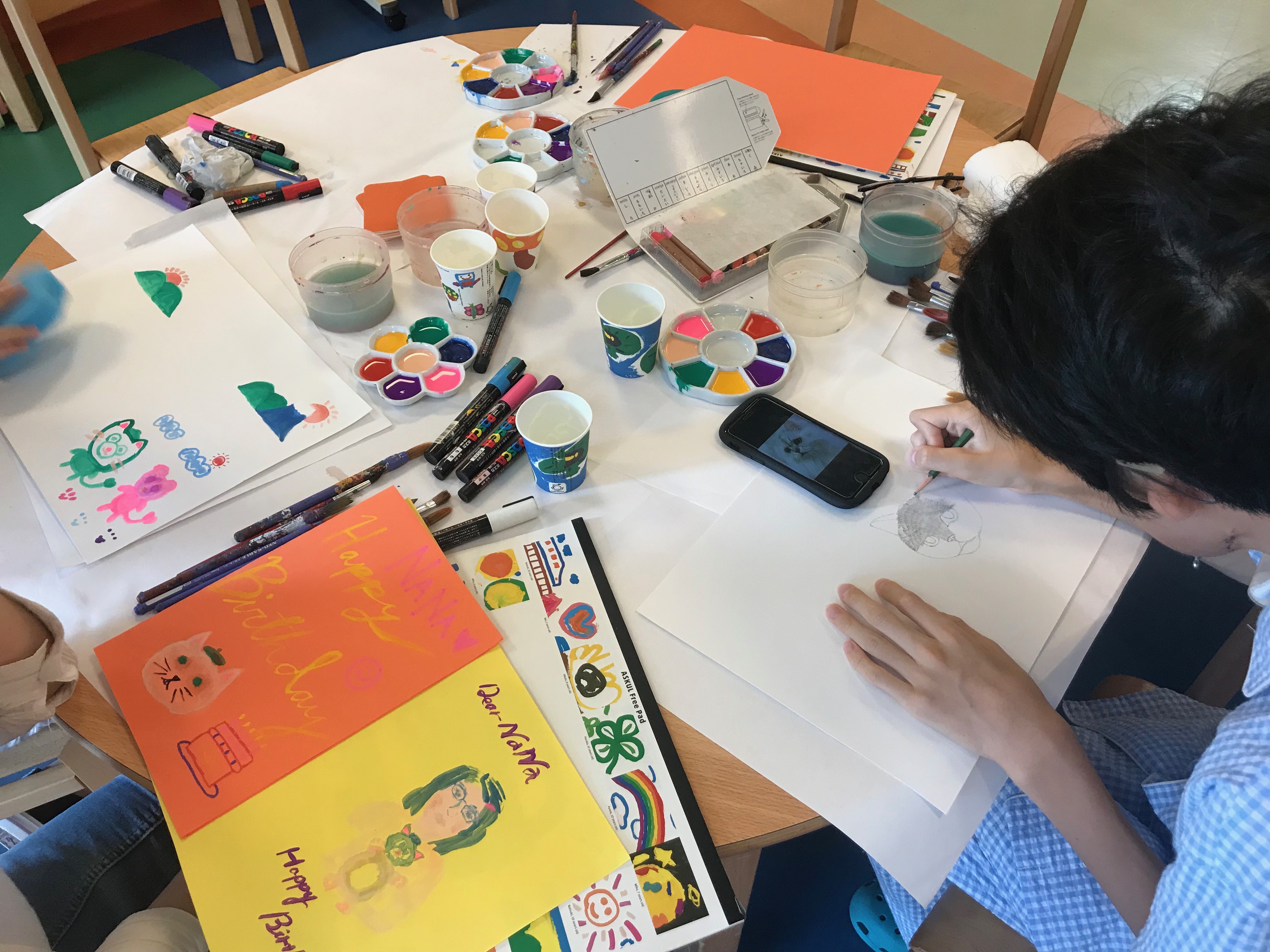 The boy next to her was drawing a cat. He had just gotten a surgical procedure done on his jaw, but he was excited to draw and carefully sketched for an hour. He enjoyed his time so much he asked us to extend the workshop time so we added an hour to the art workshop.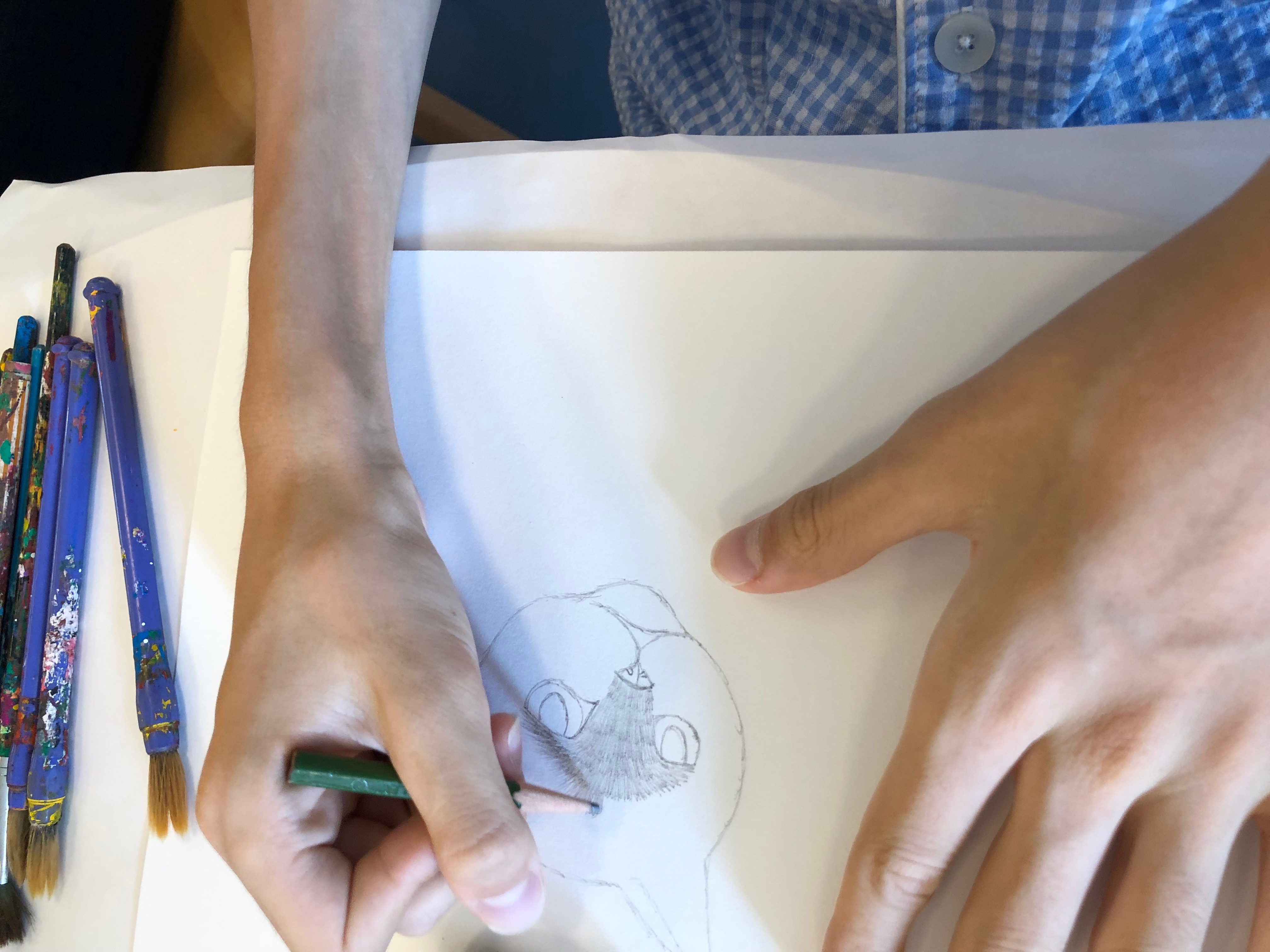 The kids were really happy and enjoyed the art workshop, as did we!
Having the opportunity to assist with this art workshop as an intern while studying abroad in Japan was a heartwarming experience and I feel extremely humbled by it. Just to spend time with the children and play with them for a couple of hours filled my heart with joy. I hope as I continue to intern at Kids Earth Fund that I will be able to attend more art workshops like this one and meet more of these inspiring children. The main reason why I chose to intern at Kids Earth Fund is because I hope to become a child psychologist in the future. From this experience, I learned how Kids Earth Fund runs art workshops and gained a deeper understanding of child therapy in Japan. The workshop gave them an opportunity to be creative, express themselves, and interact with others while they are in the hospital and recovering from surgery or being treated for their various illnesses.
-Christy Koyabu
We held the workshop in the playroom and the sickroom. Every time a child lost sight of Christy, they said, "Where's Christy? Where's Christy?" The children enjoyed the workshop and the opportunity to learn and speak English. We were all happy.